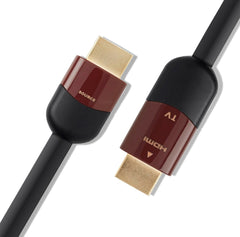 High Speed Active HDMI 4K@60Hz Cable with Performance Cabernet IC Chip 18Gbps for UHDTV
Active High Speed HDMI 4K@60Hz Cable with Performance Cabernet IC Chip 18Gbps CL2 Rated Model M-9312735
Reliably connect your home theater equipment to greater by using this Active Series High Speed HDMI® Cable with Cabernet Ultra CL2 IC Chip technology.  The Cabernet series of Active High Speed HDMI Cables is designed to meet the demanding needs of home theater installers and contractors. The attractive zinc-alloy connectors offer a simple elegance and beauty to the exterior portions of your installation. Rated for 18Gbps for lengths of up to 50 feet, these cables are certified to accurately transmit all of the features supported in the latest HDMI specification.
These Active High Speed HDMI Cables are directional and are marked on the connector as Source and TV.
These cables use 100% pure copper conductors and are CL2 rated, which means that cable has been designed to comply with fire safety codes and insurance requirements, making it safe for use inside the walls of residential class buildings.
TIP: It is a good idea to test cables and connections before installing them inside a wall. If there are any issues or problems, we can help you resolve them before you spend the time, effort, and expense of installing them inside the walls.
Cable Description
Built-in active signal processing IC chip for accurate signal reproduction over longer distances
CL2 in-wall fire safety rating
100% pure copper conductors
Resists electromagnetic and radio frequency interference with shielded zinc-alloy connector heads
Connects to a wide variety of sources such as: (PlayStation®, Xbox®, Satellite Receivers, Blu-ray Disc™ players, etc.) and destination devices (HDTVs, DVRs, switches, extenders, etc.) with HDMI connectors (Type A)
Supported HDMI Features:
4K resolution at 60 Hz for lengths up to 50 feet
UHDTV - (Ultra High Definition TV 4320 Resolution)
High Definition Audio including SA-CD, DVD-Audio, DTS-HD Master Audio™, and Dolby TrueHD™.