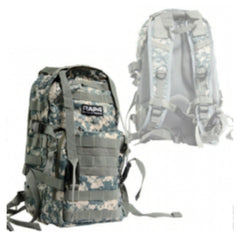 Digital ACU Camo Assault Pack Backpack for Paintball & Airsoft
Digital ACU Camo Assault Pack Backpack for Paintball & Airsoft Model R-9108328
This Assault Pack is one the best utility bags ever made. The Assault Pack is made out the same material as military gear. It is tough and rugged and will take a beating.
Features:
Soft support shoulder and back pads
reinforce webbing and buckle for extra load
utility pocket attachments
Shoulder and back support webbing and buckles
This Assault Pack is perfect to lug your books, laptop, and many other school needed stuff.