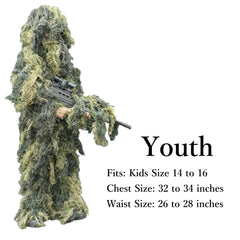 Youth Kids 14-16 Woodland Ghillie Camo Suit for Paintball & Airsoft
Youth Kids 14 to 16 Woodland Ghillie Camo Suit for Paintball & Airsoft Model E-YouthWoodland
Be invisible in the woods! Well crafted leaf style Ghillie Suit. One size fits kids 14 to 16 size body. Excellent quality versatile design for use with many tactical applications. Made heavy duty with mesh, and 7 colors of camo fibers. 4 piece suit, has pants, top, gun cover, and removable hood. Full body suit to cover from head to toe. Has openings for face, hands, and feet.
Specifications:
Size: Youth Kids 14 - 16
Chest Size: 32 to 34 inches
Waist Size: 26 to 28 inches
4 Piece Suit
Caution:
  It is highly recommended not to smoke while wearing this product as it can be highly flammable. Keep away from open fires, and sparks. Excellent value for you, and your customers.